Many thanks to the customers who have given us permission to use their pictures on our website. This page is intended to allow potential customers to see what might be done with our timber.
February 2019
The screening below was installed by Stonetree Landscapes to obscure a featureless brick wall. It consists of 45 x 20 mm planed larch battens on larch posts.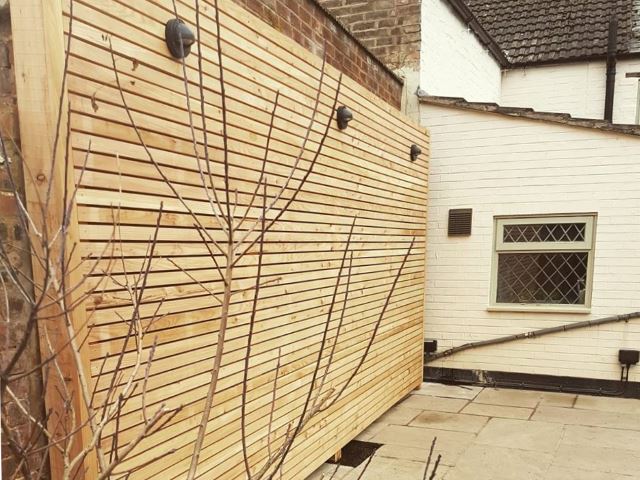 September 2018
The large pergola below was constructed using 200 x 200 mm oak beams by David Greaves Landscape Design & Construction.
August 2018
Our sawn deck boards are cut from larch, cedar or oak. For more information, please click on the following link.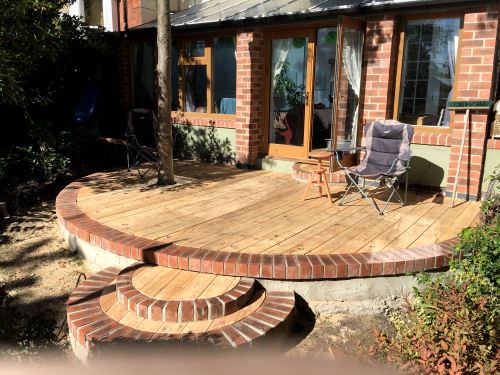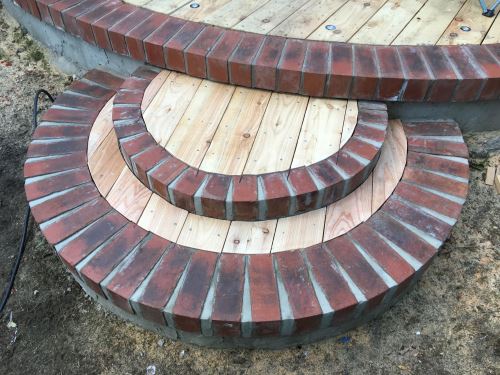 August 2018
We cut western red cedar fencing to order. The most popular current style uses planed lath arranged horizontally as shown below. We generally cut the lath at 45 x 20 mm or 70 x 20 mm (finished sizes).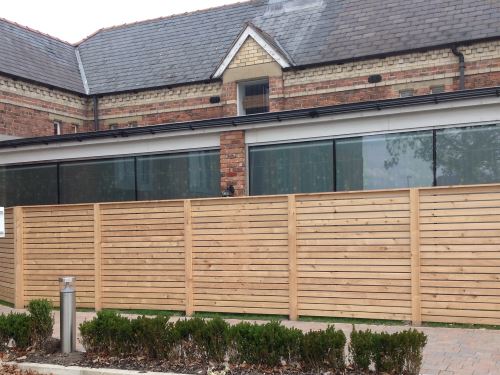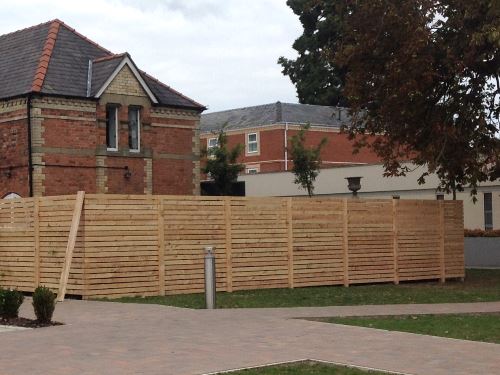 July 2018
The photo below shows how our square-edge cladding boards are normally arranged vertically with a small clapping strip to cover the join.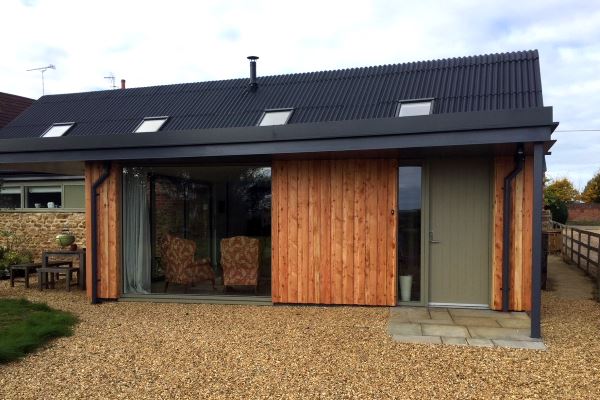 June 2018
Our oak beams were used in the construction of this outdoor kitchen/bar as part of a landscaping project by David Greaves Landscape Design & Construction.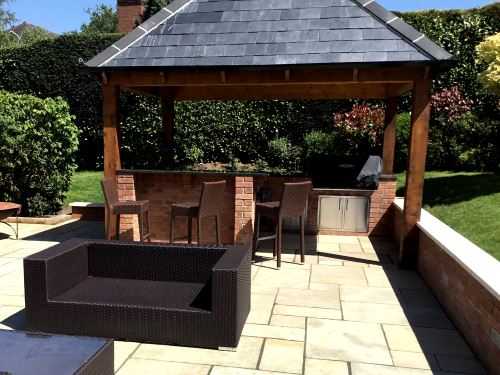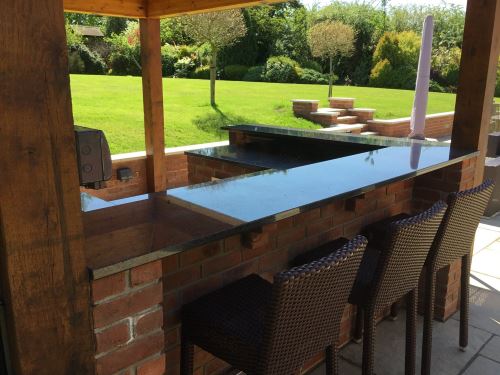 June 2018
We cut natural-edge cladding boards to order. Larch and western red cedar can be supplied and used untreated as they are classed as semi-durable softwoods (out of ground contact). We have the ability to pressure treat all of our products with Tanalith preservative if preferred.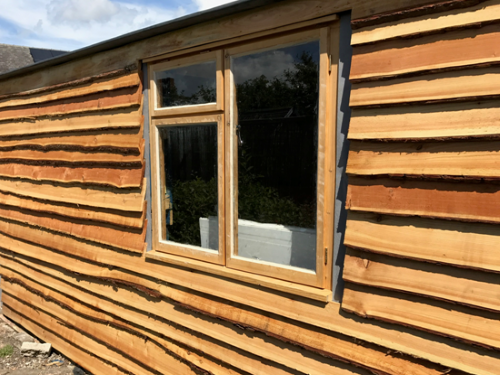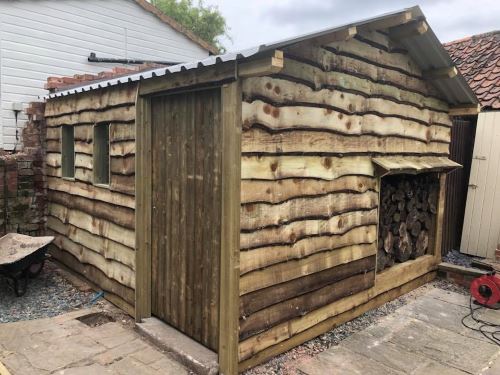 May 2018
Our oak feather-edge cladding boards and oak beams were used on the outdoor building below by Bertram Design and Build.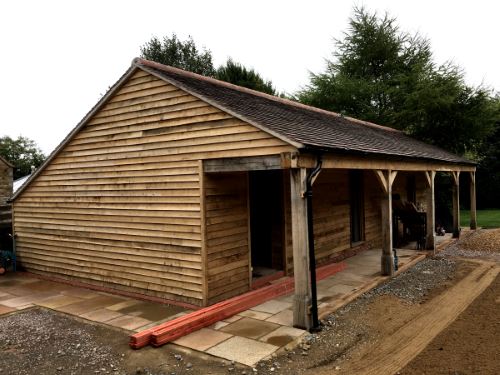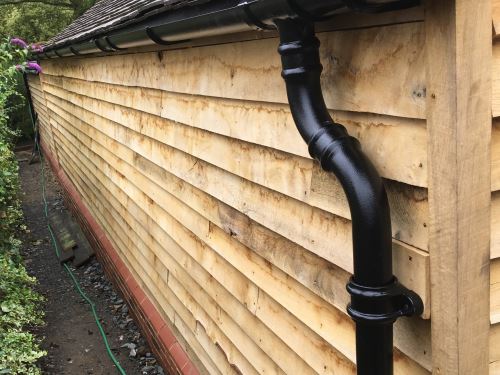 April 2018
A couple of photos below from Jane at Desmond & Molly: an oak table and a toolshed incorporating our larch cladding boards. Take a look at the Desmond & Molly Shop for more unique, creative products, or contact Jane about commissioned work, either design, craft or art.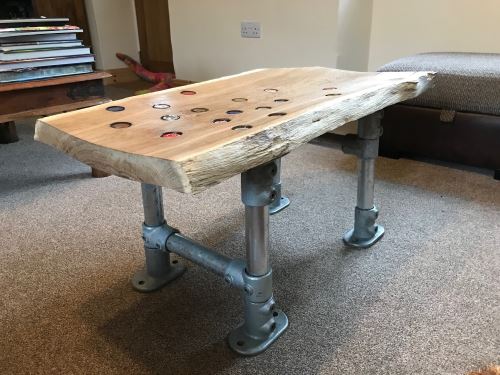 March 2018
Our oak sleepers were used in the following project by Viridis Garden Design, which includes an outdoor seating area and firepit! Viridis Garden Design offer outdoor design and landscaping in both Leicestershire and Rutland.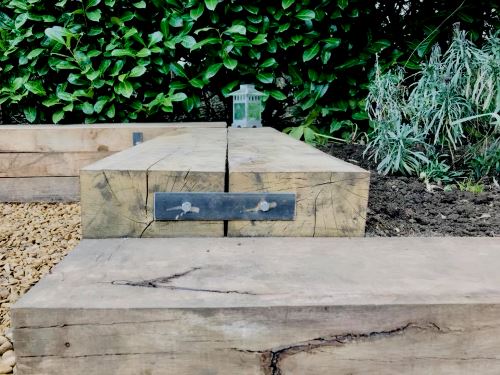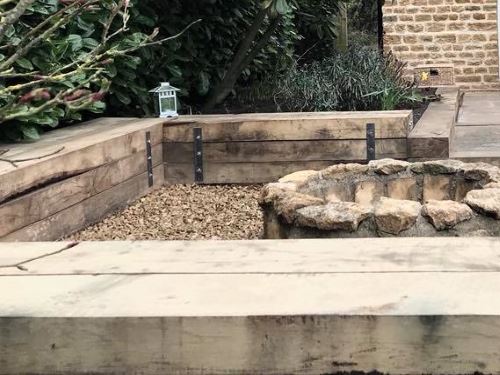 March 2018
This bridge was built by Chris Brewin Landscapes using oak beams and cedar deck boards supplied by Belvoir Sawmill. The design, shaping and construction was all his own work.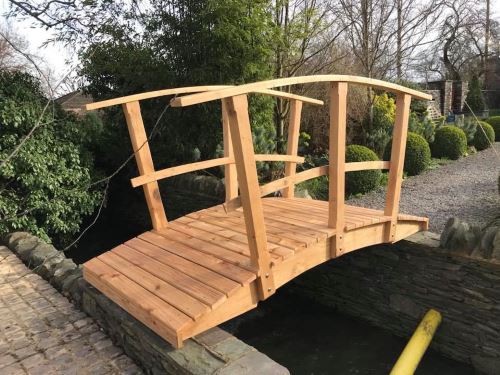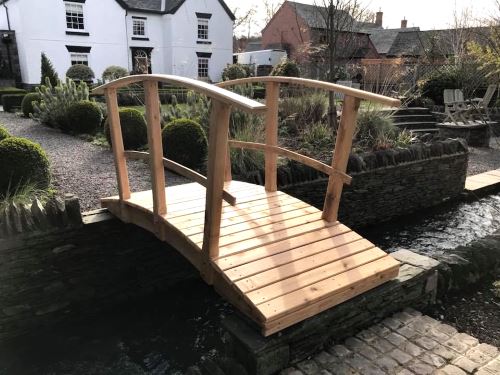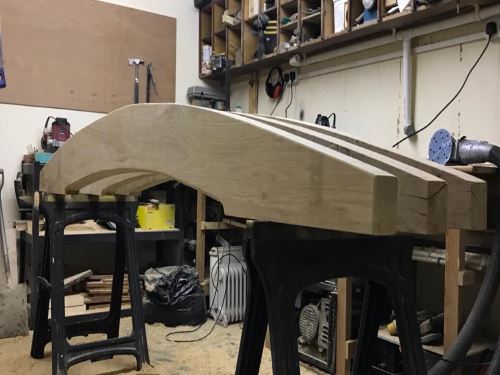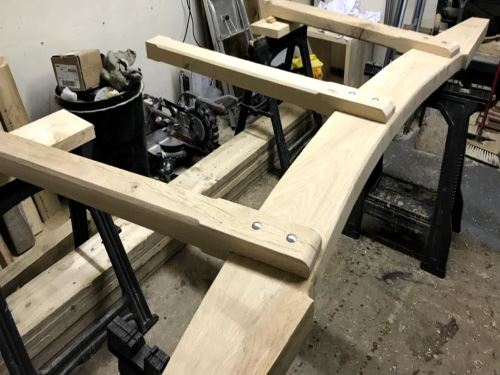 February 2018
Sycamore serving boards from Live Edge of Leicester.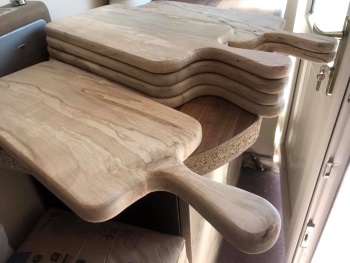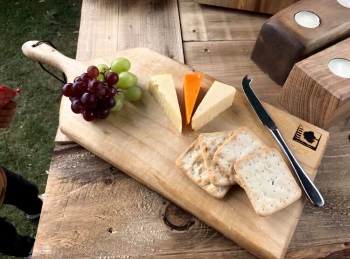 January 2018
John Cox is a regular customer of our Offcut Shed, and uses our oak offcuts to fashion the heads on many of his country sticks.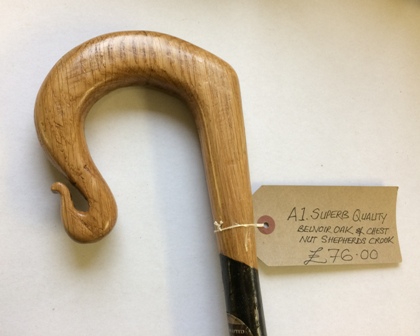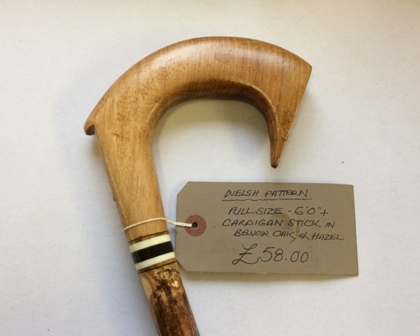 December 2017
We recently supplied the heavy-duty feather-edge cladding and larch beams for the new farm shop at March House Farm in Great Dalby. The farm shop, which includes a butchery and deli, is open to the public seven days a week. As well as their home reared and butchered beef, lamb and pork, the shop sells a range of fresh fruit and vegetables, homemade cakes and pies , cheese and fresh bread.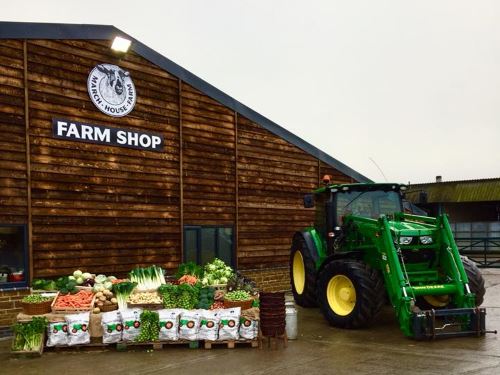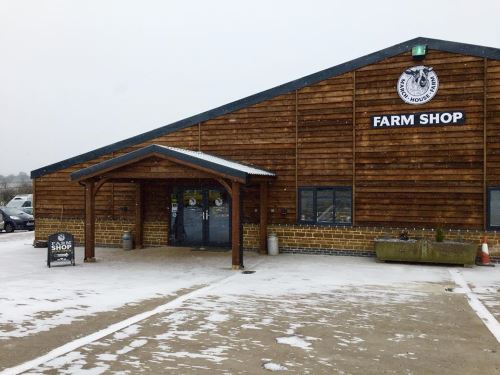 November 2017
Something on a smaller scale: bowls made using elm offcuts from our Offcut Shed. Thanks to John Lockwood of Unlocked Wood for the photo. You can see more of his bowls and other hand crafted timber items in his Gallery.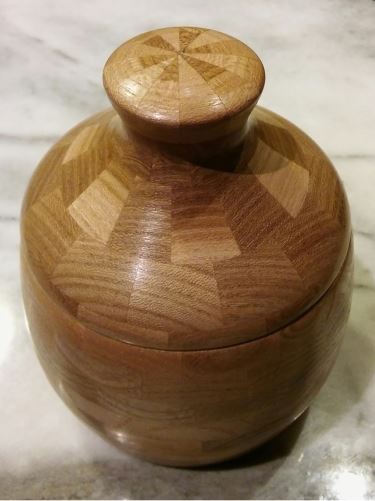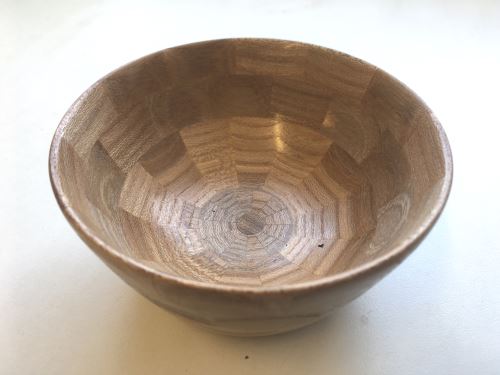 October 2017
Larch natural edge cladding, this time on a garden workshop designed and built by The Hadmade Hut Co. We also supplied the oak and ash worktops inside.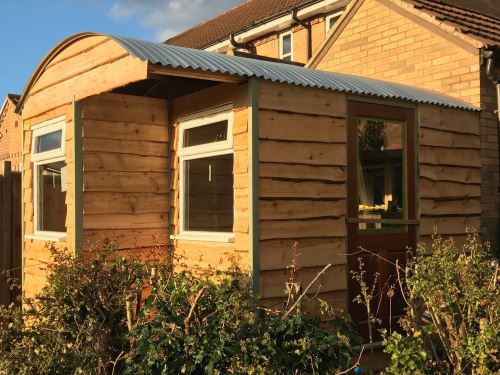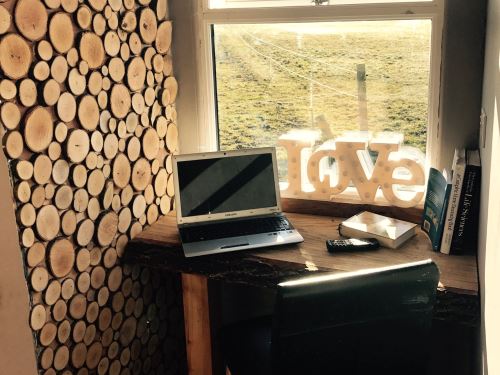 September 2017
Photos below of a couple of oak mantlepiece beams we supplied recently. We can cut oak beams to size, and plane to a smooth finish as required. However, all of our oak is fresh sawn rather than dry, so anything that we cut is liable to crack and move (bend/twist) after installation.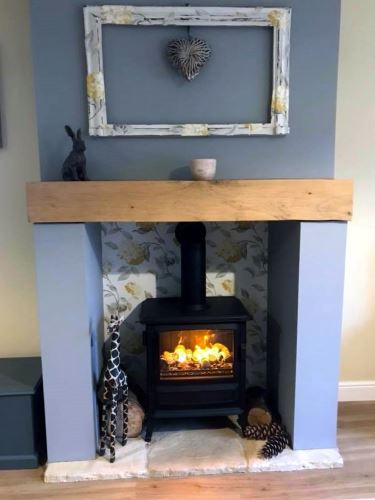 August 2017
These planed Douglas fir slats were used by the customer to renovate a cast iron bench.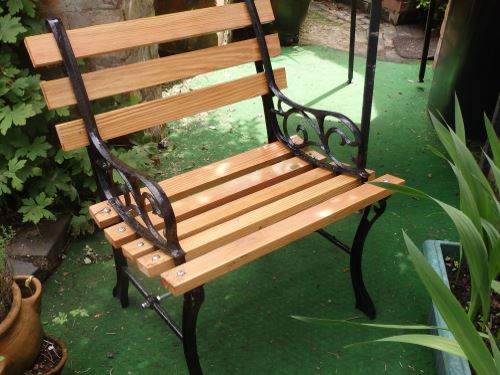 August 2017
We cut the Douglas fir beams and larch natural edge cladding for the bespoke shed below, designed and constructed by Stonetree Landcapes. Based in Melton Mowbray, Stonetree Landscapes offer a comprehensive garden design and landscaping service across Leicestershire and Rutland.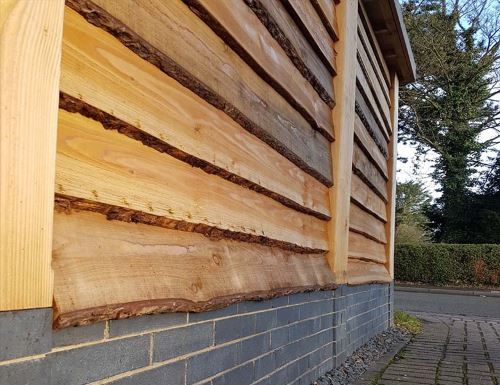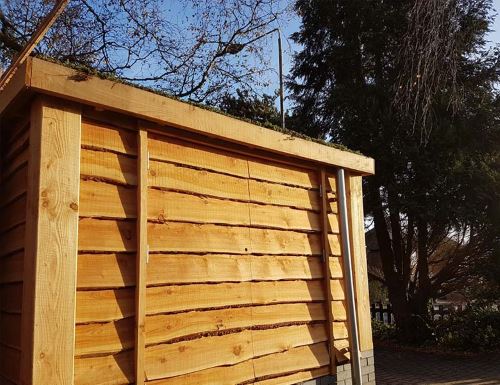 July 2017
More oak beams, this time for an extension in South Croxton, Leicestershire.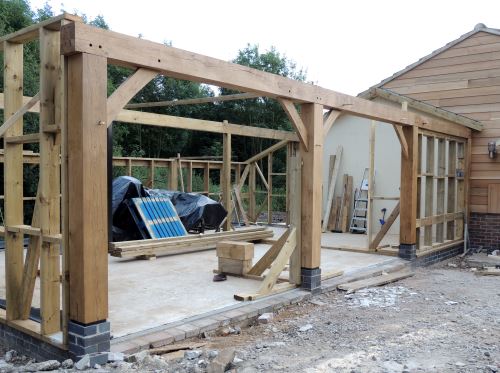 June 2017
The Old Wharf Tearoom in Hickling is now open! We've supplied a fair amount of timber for the renovation project, including the sign below.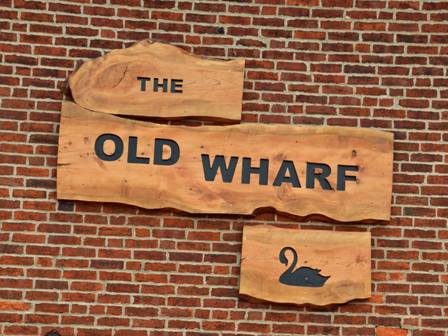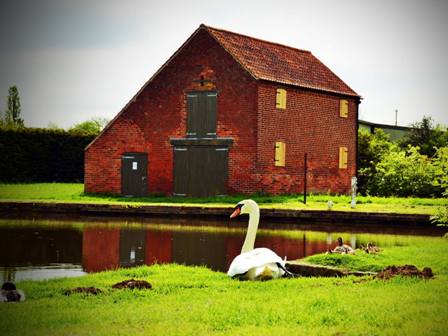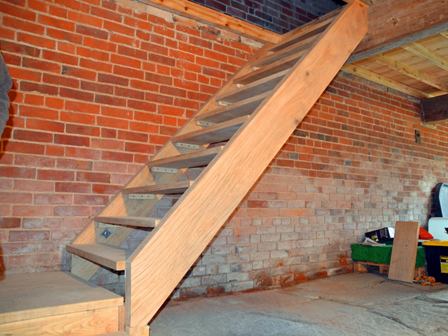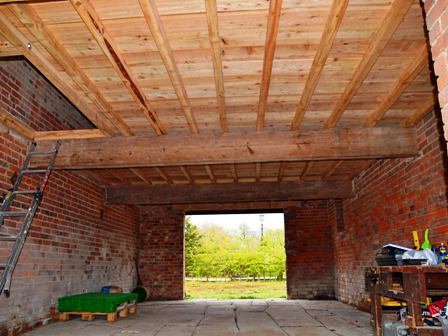 May 2017
This is the bar top we recently supplied to The Craft Rooms in Lincoln city centre, a new bar that specialises in craft beer and real ales. It's a slab of ash that we cut to 2900 x 600 x 75 mm and sanded to a smooth finish.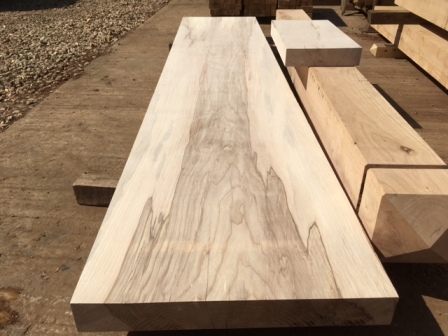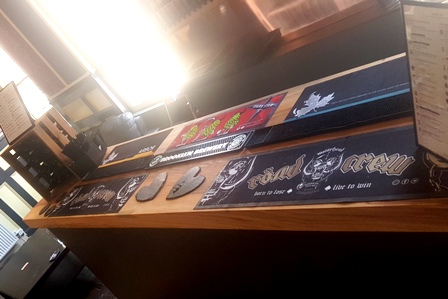 April 2017
More quality workmanship from Chris Brewin. An oak porch now!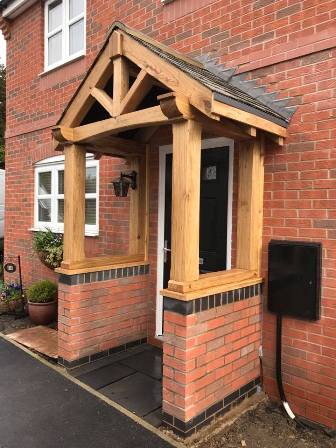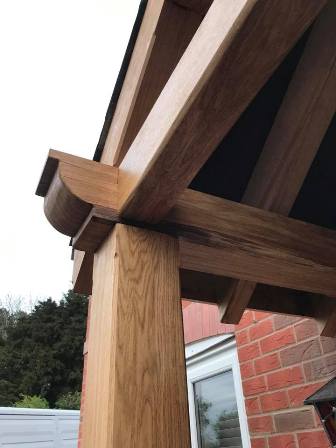 April 2017
We recently cut the oak beams and oak lath for the project below. It was constructed by SL Joinery, who cover work from domestic renovations and extensions through to large new build developments. For more information, give them a ring on 07962 262 280 or 0116 2355 456.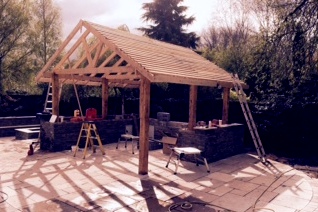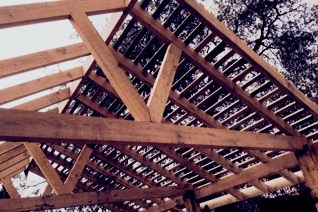 March 2017
This table constructed by Chris Brewin is a departure from his usual landscaping work. It features a waney-edged, spalted beech plank, which we ripped down the middle so that he could use it either side of a piece of glass for the table top. To see more, please visit his Facebook page: Live Edge of Leicester.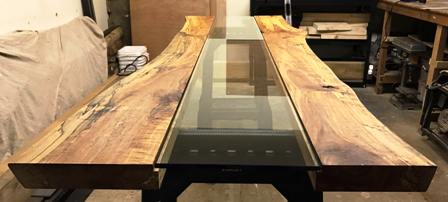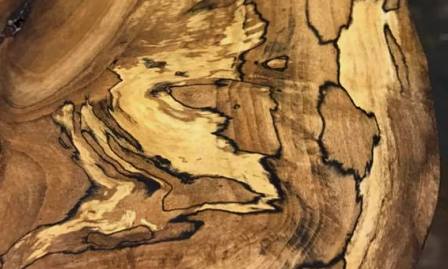 February 2017
Belvoir Sawmill provided the materials for this lecturn, which was made by Storm Events for London Zoo.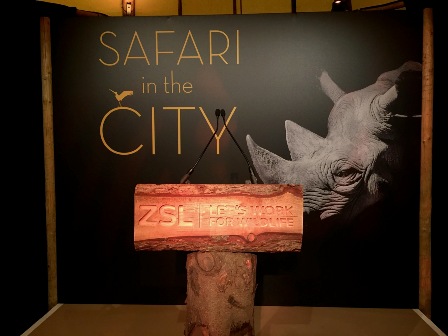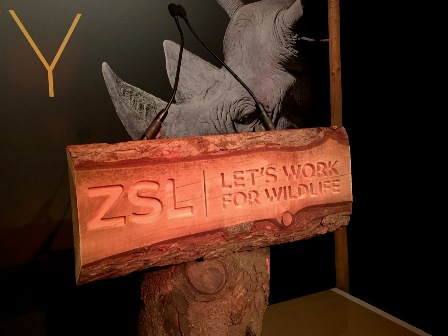 February 2017
The pergola below was constructed by Chris Brewin Landscapes using western red cedar supplied by Belvoir Sawmill. The timber in question came from a block of cedar located exactly one mile from our yard on the Belvoir Estate.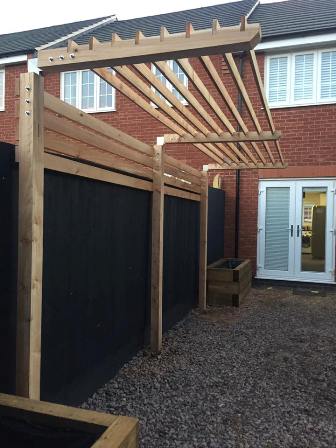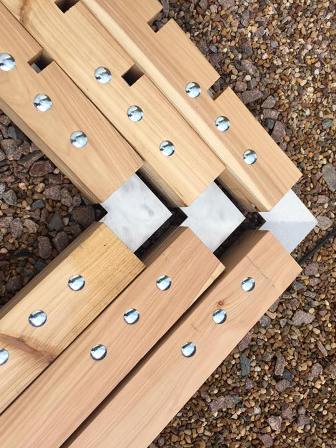 January 2017
The table below has been constructed using a piece of cedar of Lebanon supplied by Belvoir Sawmill. We keep a range of boards in stock from a variety of species, which can be browsed by visiting our yard.
 
December 2016
Chopping boards made to order by The Handmade Hut Co. using locally sourced timber from Belvoir Sawmill.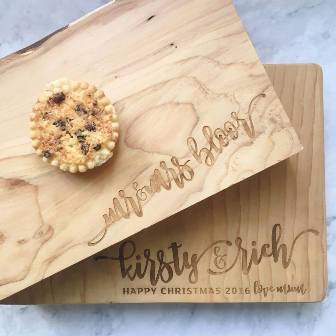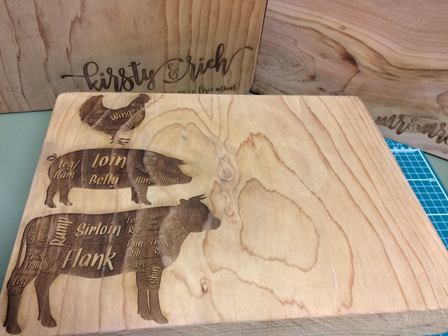 December 2016
A big western red cedar project below designed and constructed by local landscaping company Rothley Bespoke. We cut the cedar cladding, beams and deck boards for the project, which included a pergola, shed, log store and deck. Rothley Bespoke offer a complete landscaping service, and also design and construct bespoke garden buildings. For more information, please visit the Rothley Bespoke webpage.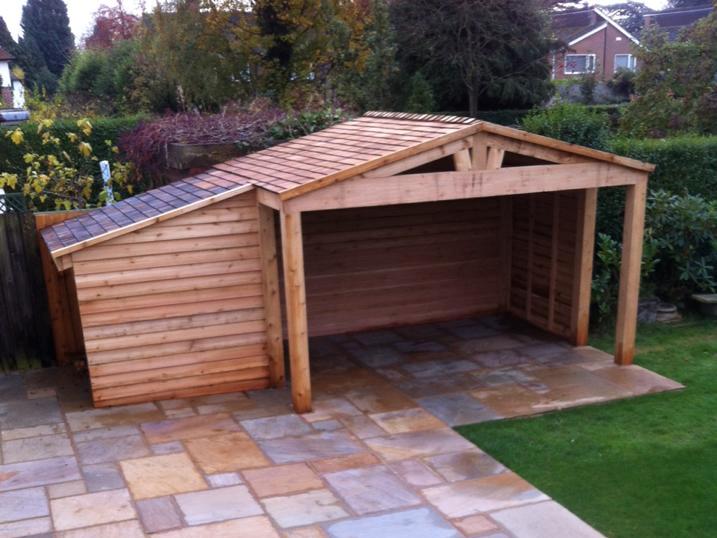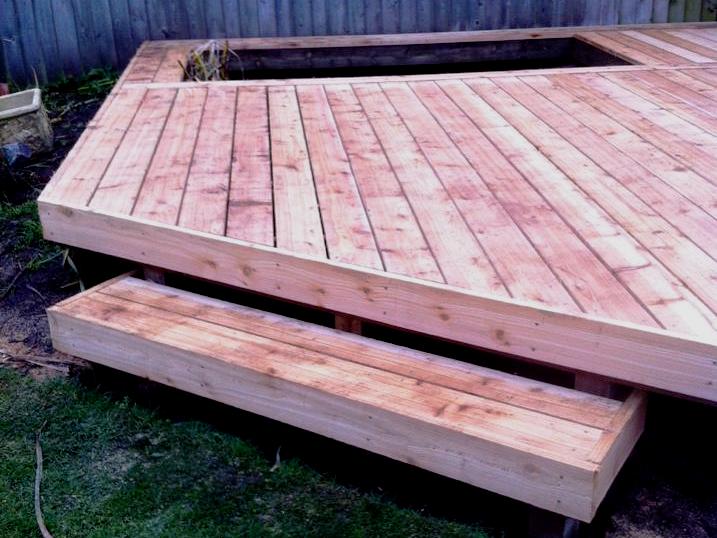 November 2016
A wheelwright using timber from Belvoir Sawmill to make a traditional cart wheel. Oak for the spokes and ash for the 'felloes'.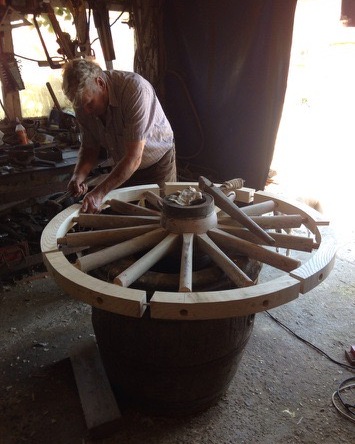 October 2016
A couple of pergolas constructed with timber supplied by Belvoir Sawmill.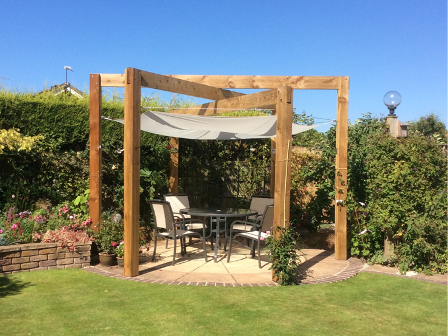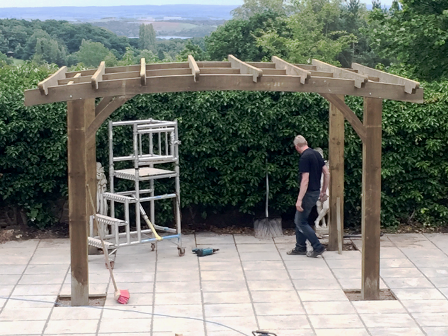 October 2016
Ancaster Paintball and Laser Tag have been putting our bundles of slabwood to good use. You can find more information about paintballing, laser tag, karting and quad bike racing on the Ancaster Leisure webpage.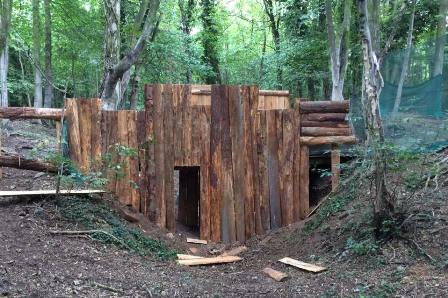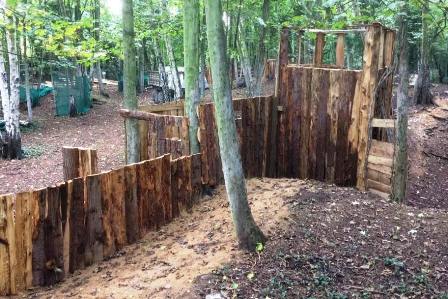 October 2016
Dickies Butchery at Orchard Farm, Plungar recently opened the Cow Shed Coffee Bar, which features timber supplied by Belvoir Sawmill.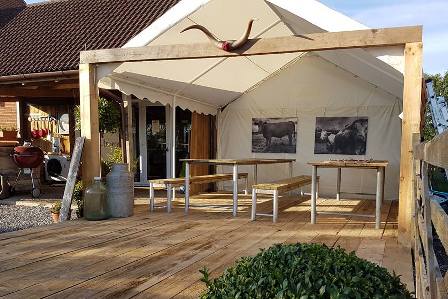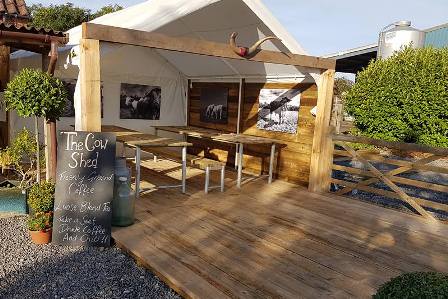 September 2016
These raised beds were constructed by a customer out of natural edge larch boards. The larch was cut to order at approximately 250 mm wide and 38 mm thick.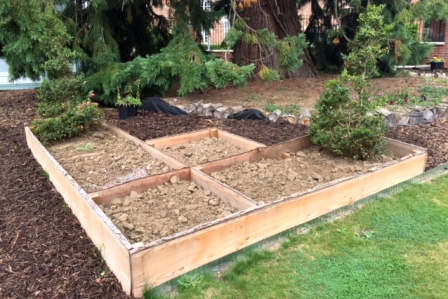 August 2016
This 'chicken hut' was put together by The Handmade Hut Co. using timber supplied by Belvoir Sawmill. The roof is clad in 450 x 150 x 10 mm western red cedar 'shingles'.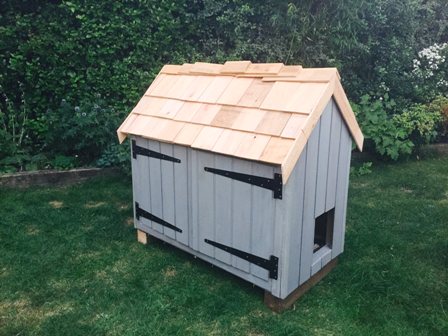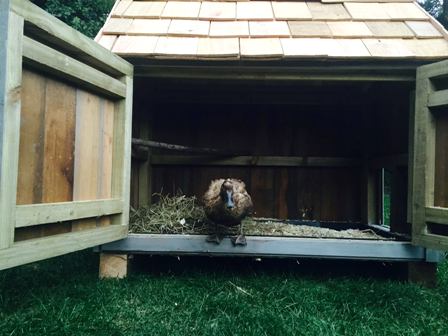 June 2016
David Greaves Landcape Design have been busy using more of our oak in their landscaping projects. Oak beams for a walkway, oak cladding for a log store, planed oak boards for a garden bench and three huge blocks of oak for a garden structure.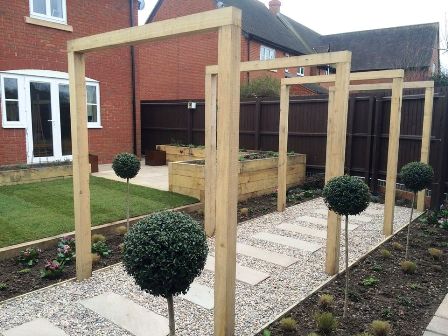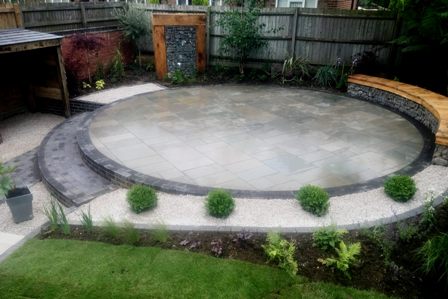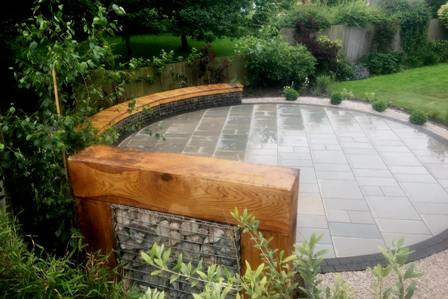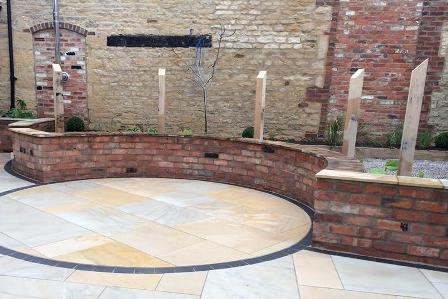 May 2016
A couple of examples of how some of our shorter oak offcuts have been used by our customers to build hand gates. Thanks to Andrew Cartlidge and Paul Stockwell for the photos.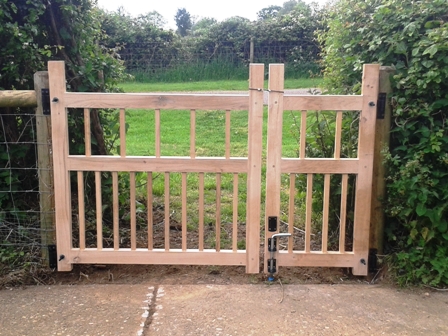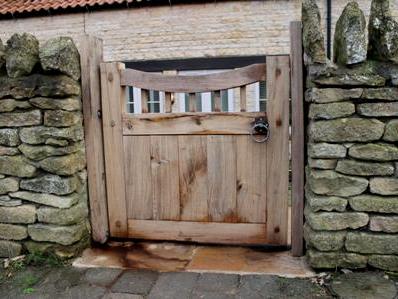 March 2016
The gates and stable doors below were made using 200 x 30 mm Douglas fir boards supplied by Belvoir Sawmill.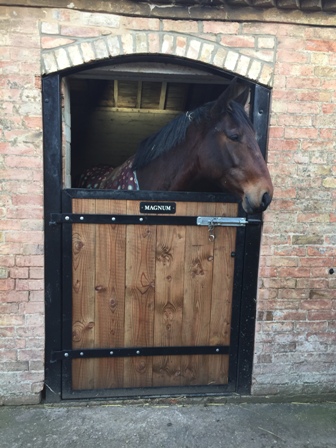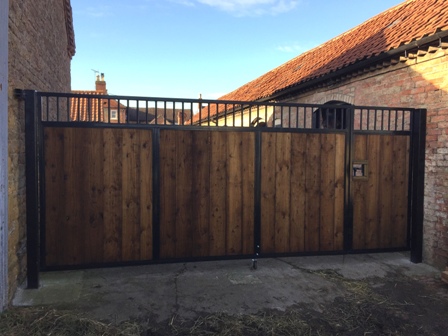 January 2016
The porch below was clad in heavy-duty feather-edge boards cut from western red cedar.
January 2016
These incredible fan carved birds have been handmade by Gary at Major Oak Heritage Crafts. Each bird is made from a single piece of carefully selected larch, sourced from here at Belvoir Sawmill.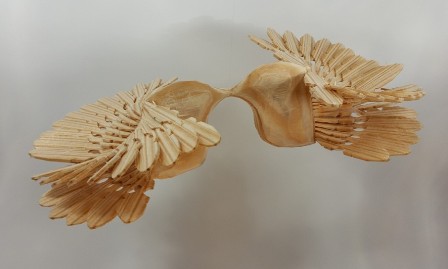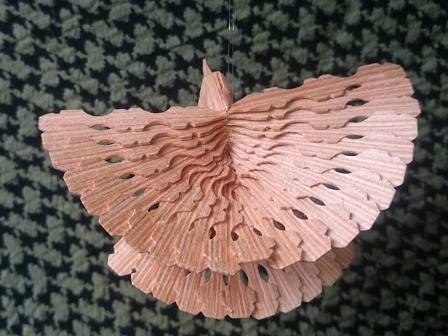 These birds and other items are available for sale.
January 2016
The timber for the new counter at George Walker Ltd was cut to order at Belvoir Sawmill.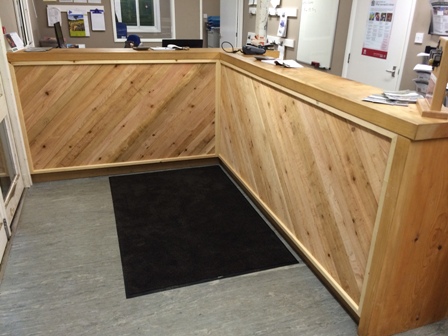 December 2015
Mark Hibberd Fencing knocking in a 10 ft strainer to hang a galvanised steel gate. All fencing materials supplied by Belvoir Sawmill.
December 2015
This year, we have provided The Chequers Inn at Woolsthorpe by Belvoir with a range of timber for several projects at the pub, included timber cladding and oak beams for an extension to their dining room/function room. The new extension is used to host weddings and parties, and complements the existing restaurant, bar and accommodation already on offer.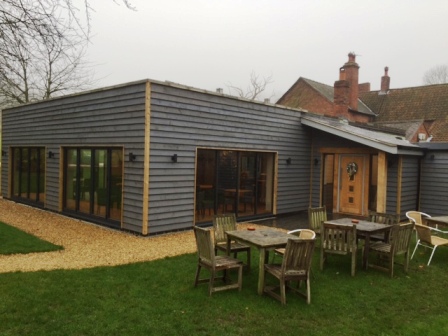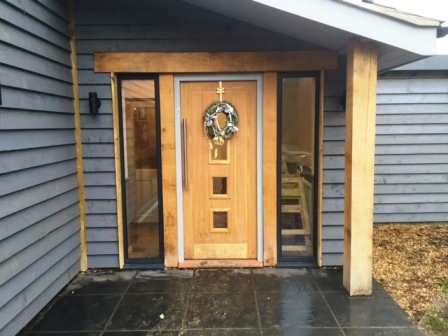 November 2015
An oak veranda made using green oak beams and oak decking supplied by Belvoir Sawmill.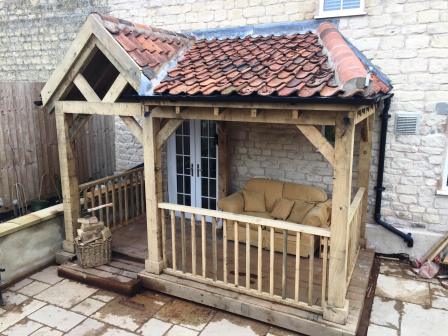 July 2015
The sections of elm below were cut and planed to create a unique fire surround for a customer.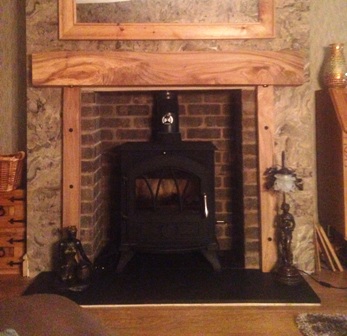 June 2015
A slightly more unusual request, but a welcome order nonetheless. We simply provided the spruce log for the weightlifting bar below, and the customer put in the hard work to create the final product.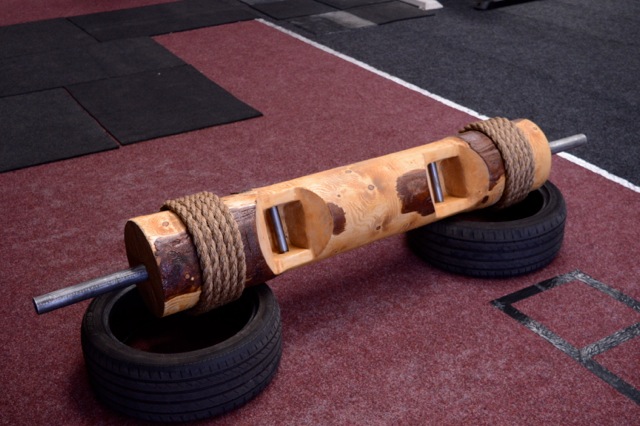 May 2015
The Douglas fir waney-edge boards used in the distinctive fencing below were cut for David Greaves Landscape Design.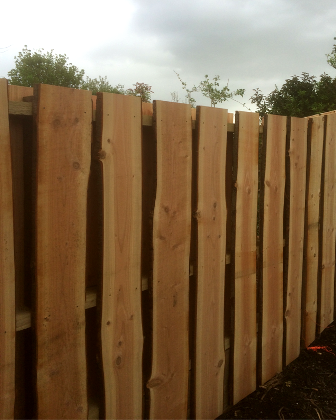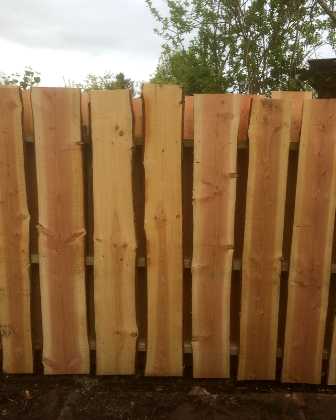 May 2015
The oak posts used in the landscaping project below were cut to order for David Greaves Landscape Design.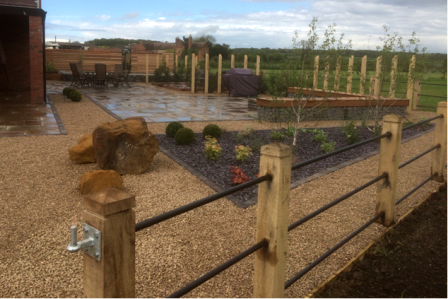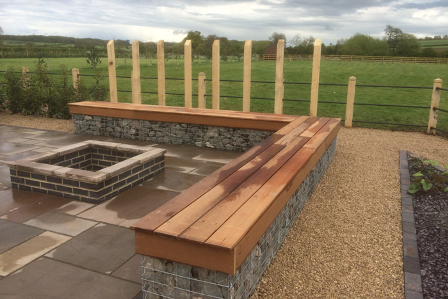 April 2015
Raised beds constructed using Tanalised softwood timber. RAISED BED TIMBER, available from stock.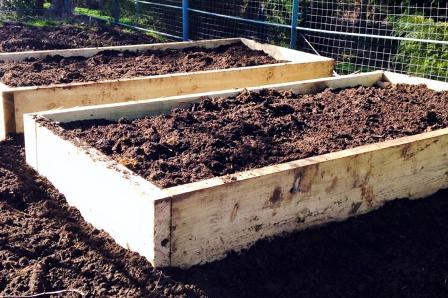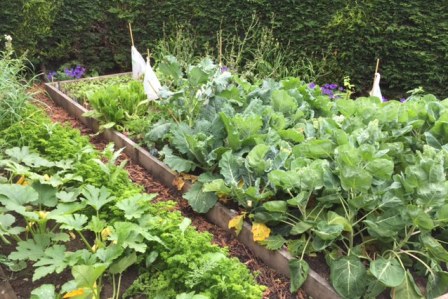 March 2015
These chunky benches were made using cedar of Lebanon supplied by Belvoir Sawmill.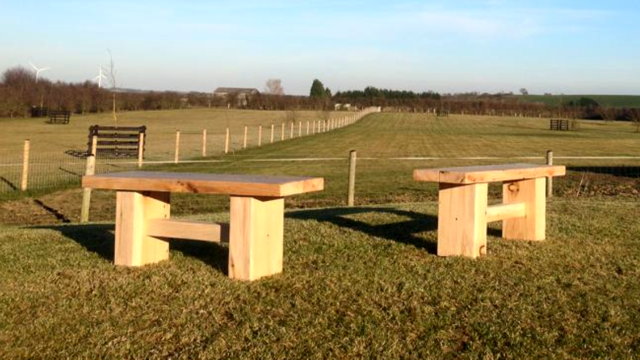 February 2015
Belvoir Sawmill supplied the oak boards for the coaming of this 1898 Truscott motor boat renovation project. The 'quarter sawn' oak boards were steamed and bent around a jig to create the shape required.